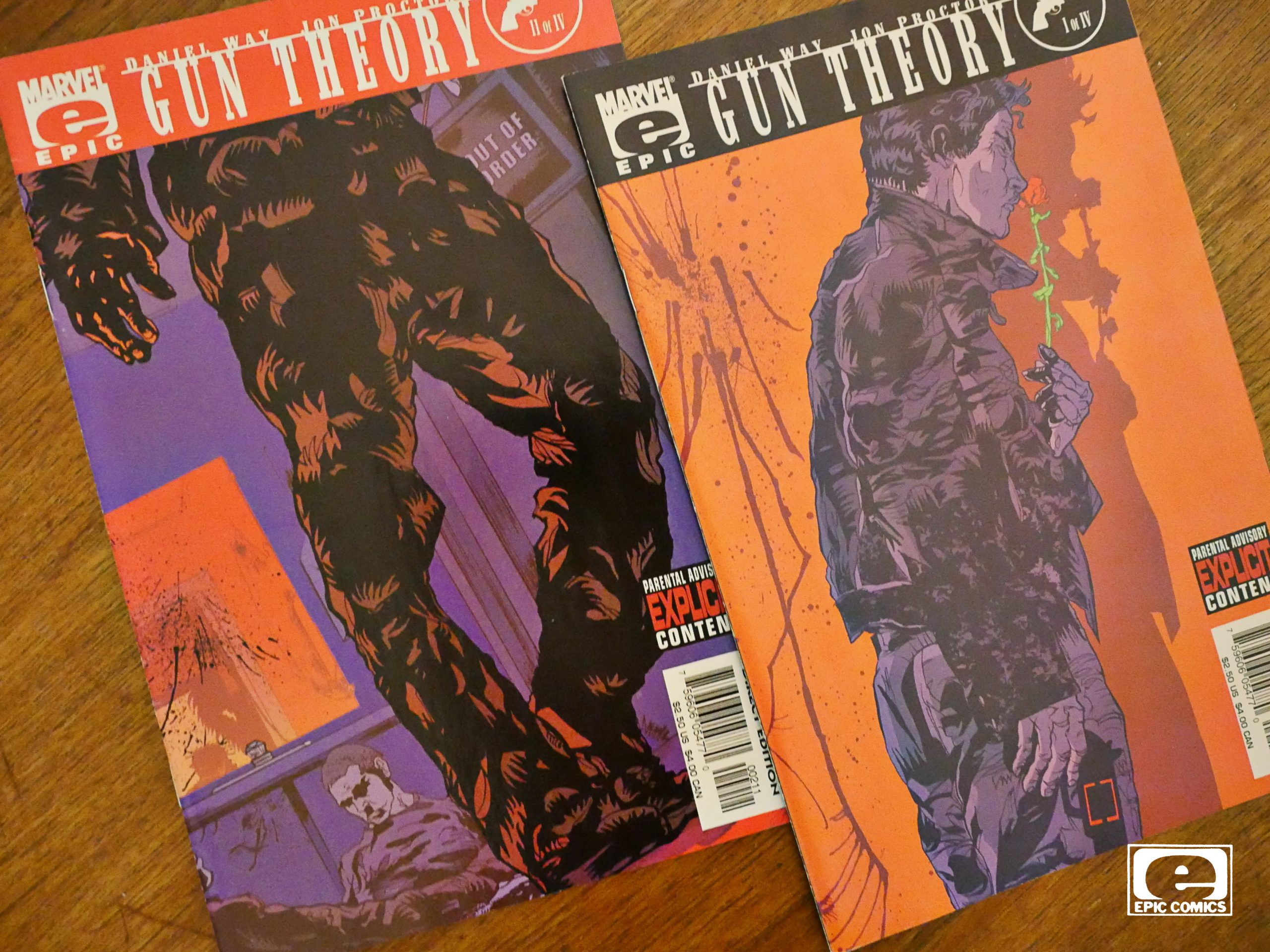 Gun Theory (2003) #1-2
by Daniel Way and Jon Proctor
This is the third and final series released as part of the resurrected Epic line in 2003. The first two had ties to Marvel characters, but this seems to be a totally separate thing. I may be wrong, though, and the protagonist is really Peter Parker's brother-in-law or something? I have no idea.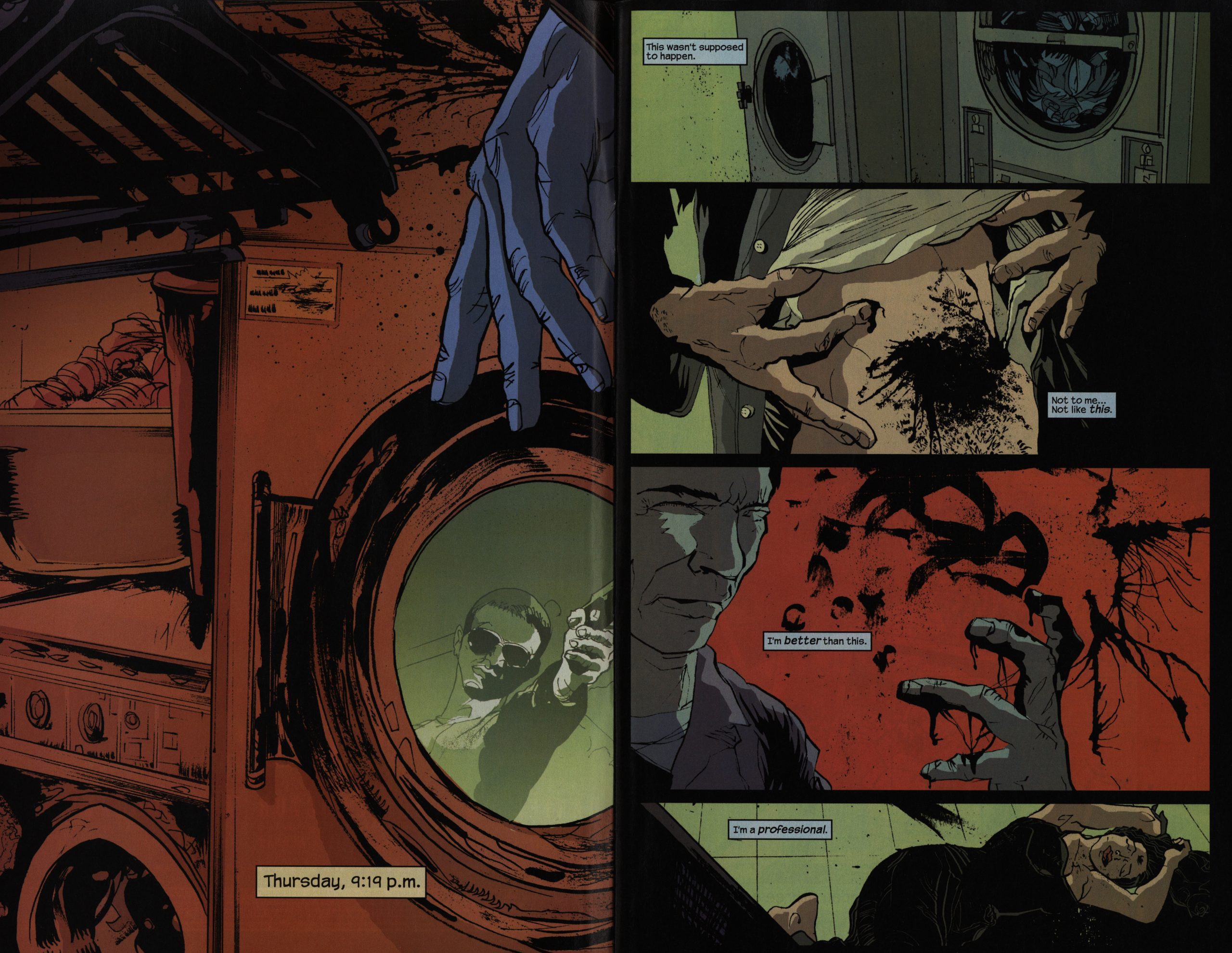 But… wow. I kinda love this artwork.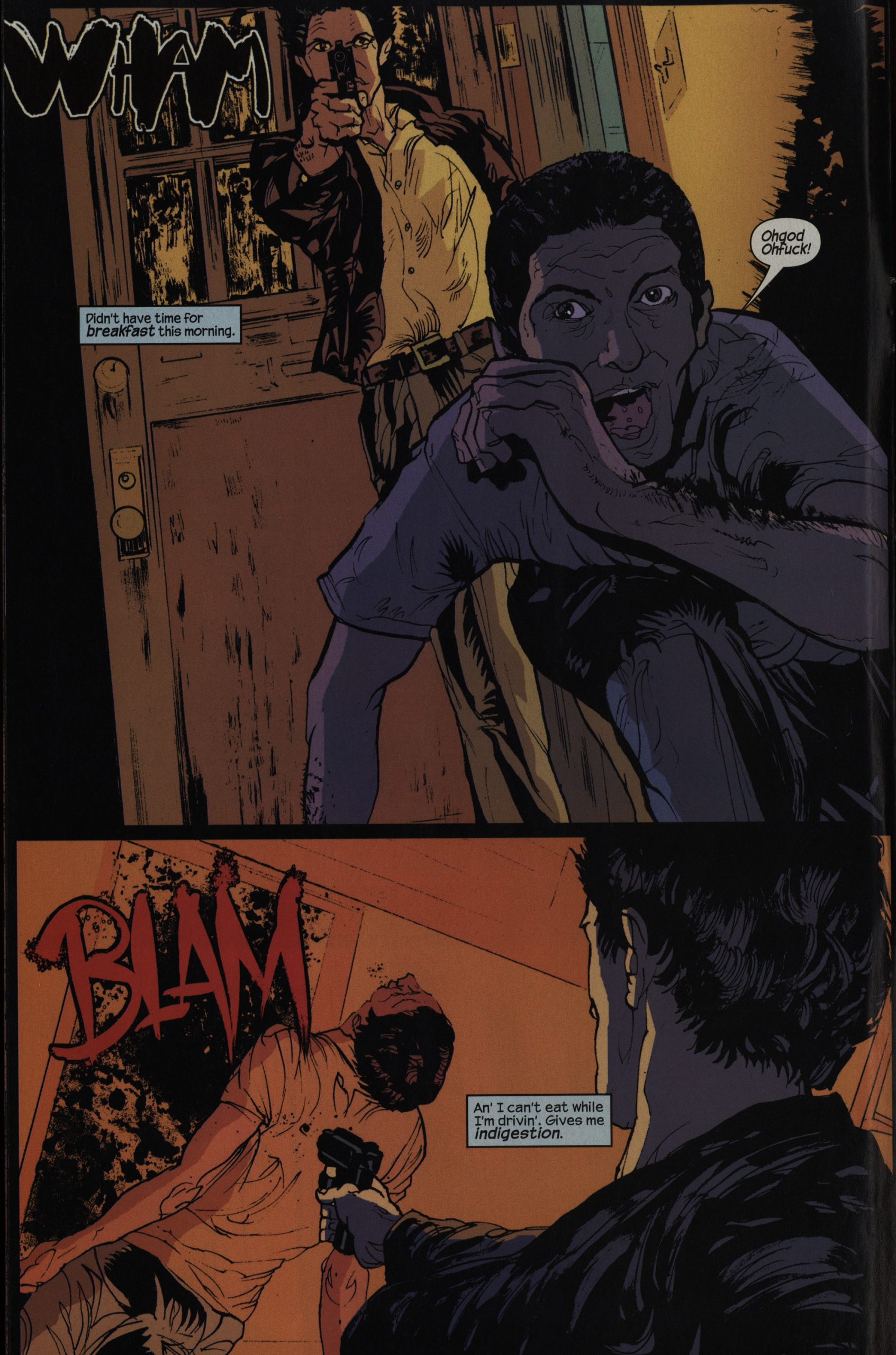 I do love this artwork! The story is very, very 2003, though: It's told from the point-of-view of a hit man, and he's bad, bad to the bone. He's so bad that all he thinks about while he's killing kids is about what he's having for lunch.
So edgy.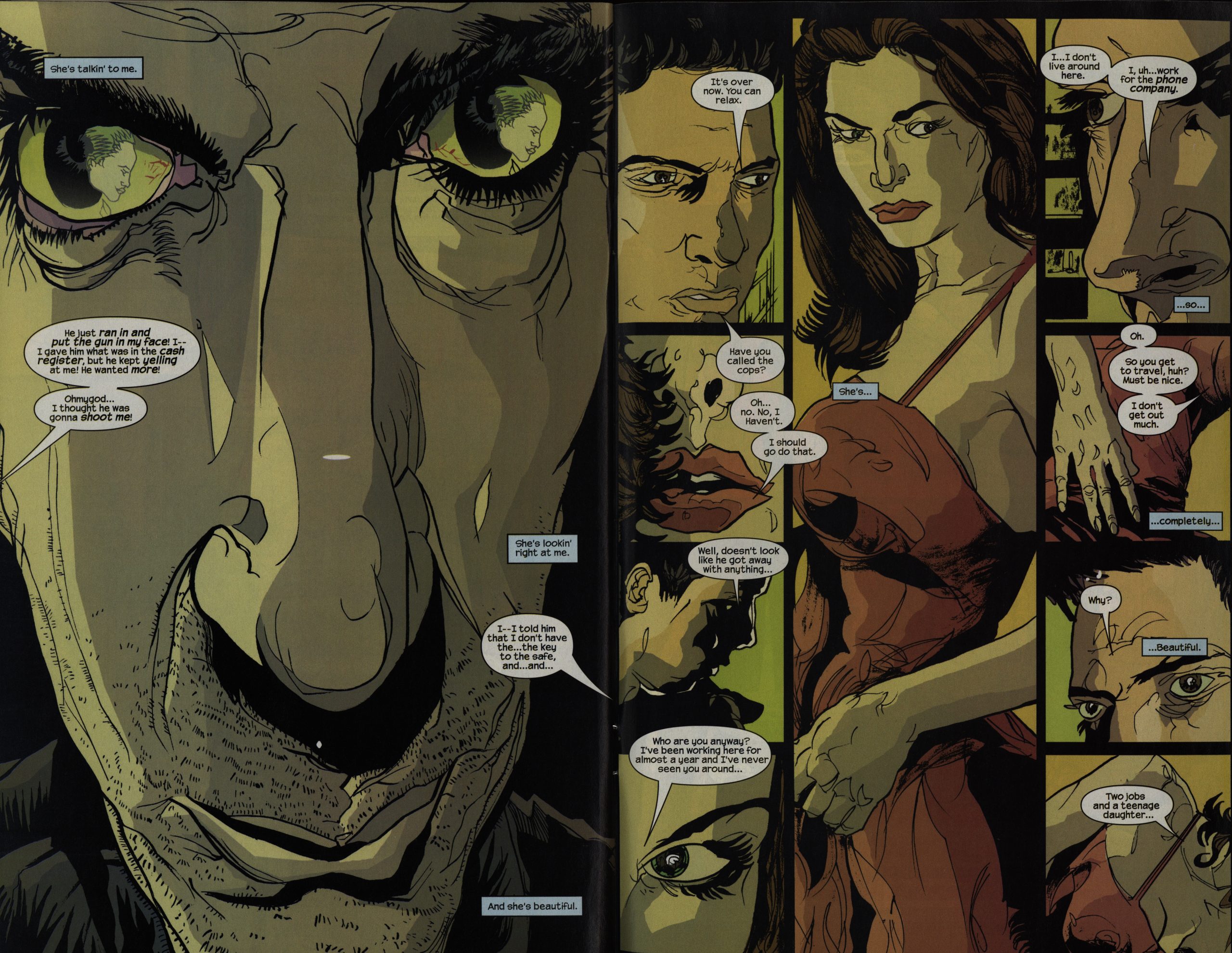 But, man, this artwork… it gets more and more itself over these two issues. Here Our Killer Protagonist meets a woman and he kinda… falls in love with her? (Yes! The character development is so deep! Even if he's a killer, he can still love! Whodathunk!) And the artwork totally reflects his sudden befuddlement. It's amazing.
Another amazing this is how Marvel even thought about publishing something with artwork as distinctive as this.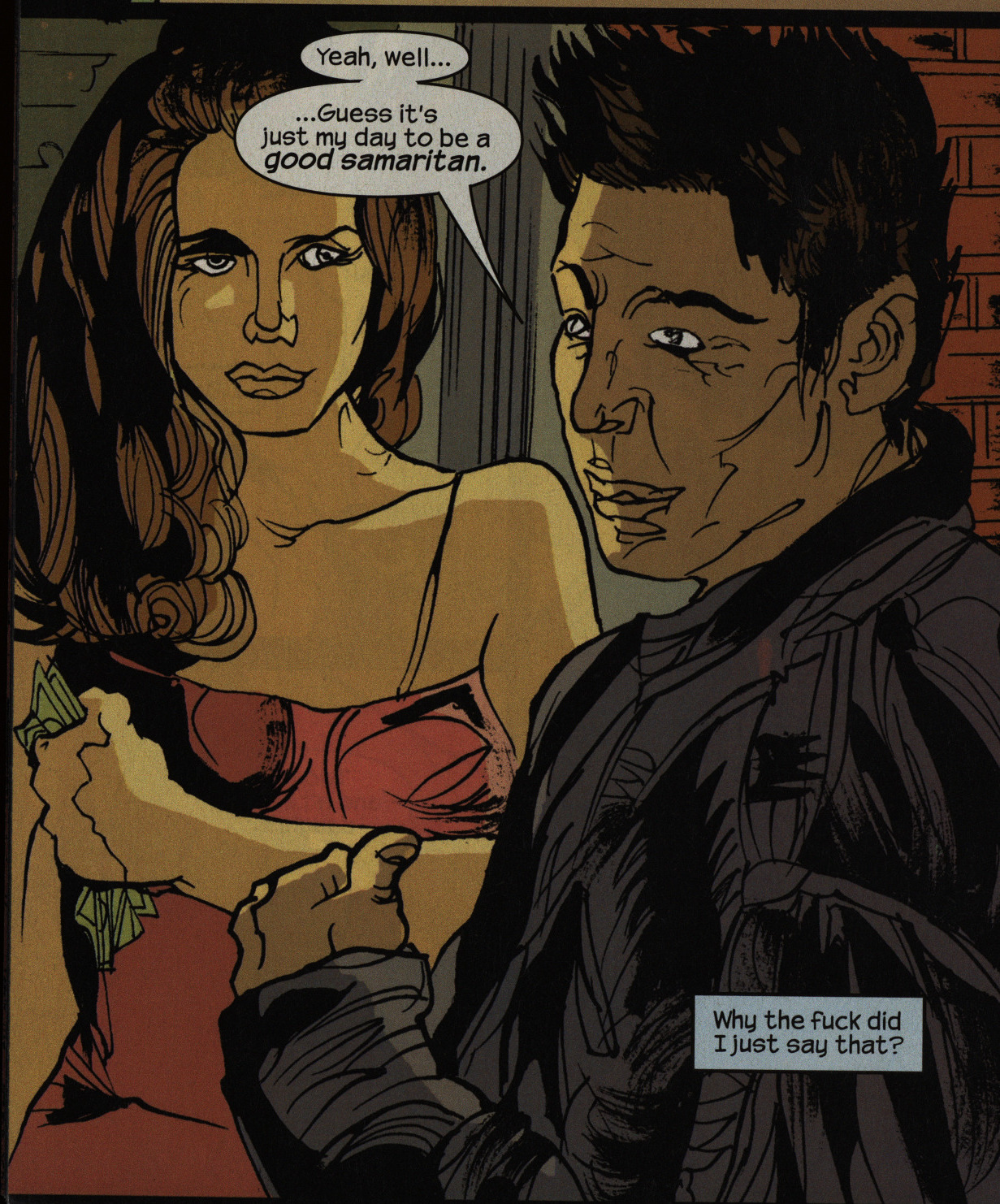 I mean… look at it! Just look at it!
Love it.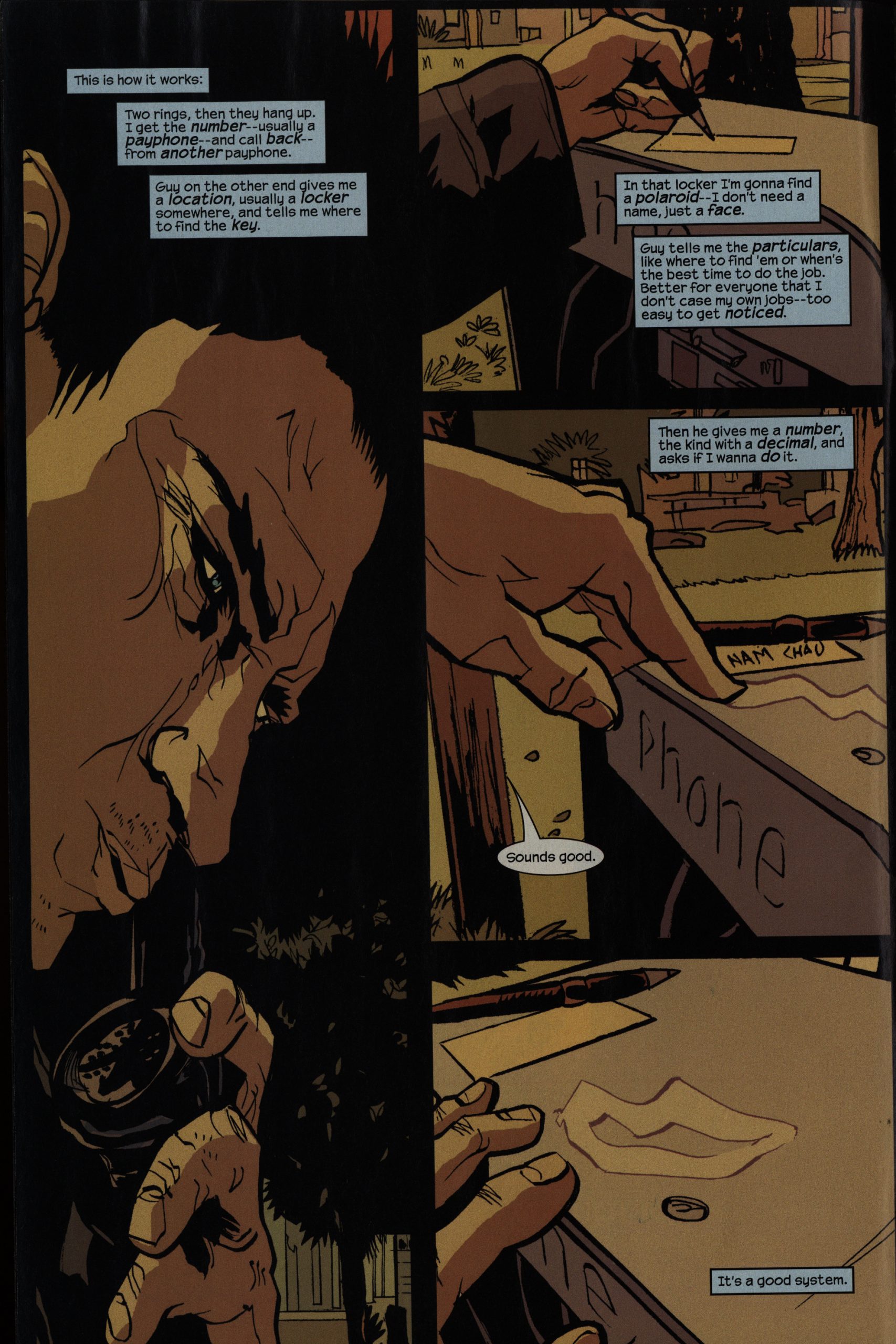 No, it's not a good system. It's a moronic system. It involves people hanging around payphones for hours on end waiting for the killer to call back, and that's really suspicious, you know? And taking a Polaroid of the victims? A POLAROID!? In 2003? And why aren't they using burner phones?
Is this meant to be set in the 70s? I may have missed a clue; perhaps it is set in the 70s? In which case I withdraw some of those objections. It's still a bad system.
And then it ends — the covers say that this is a four issue series, but only two were published before Marvel cancelled it.
Gun Theory Canceled

Retailer orders for the last two issues of Gun Theory have been canceled; I haven't heard what the reason was. While it's possible that these were "will resolicit" cancelations, the series is probably just canceled. The series was originally described as creator-owned. Unless Daniel Way is given special release from Epic's creator-owned contract terms, Marvel would retain publishing and exploitation rights to the material for the next five years, after which Way would regain those rights.
In 2013, they launched a Kickstarter to bring it back. It failed.
Looks like the art style has changed substantially over the years: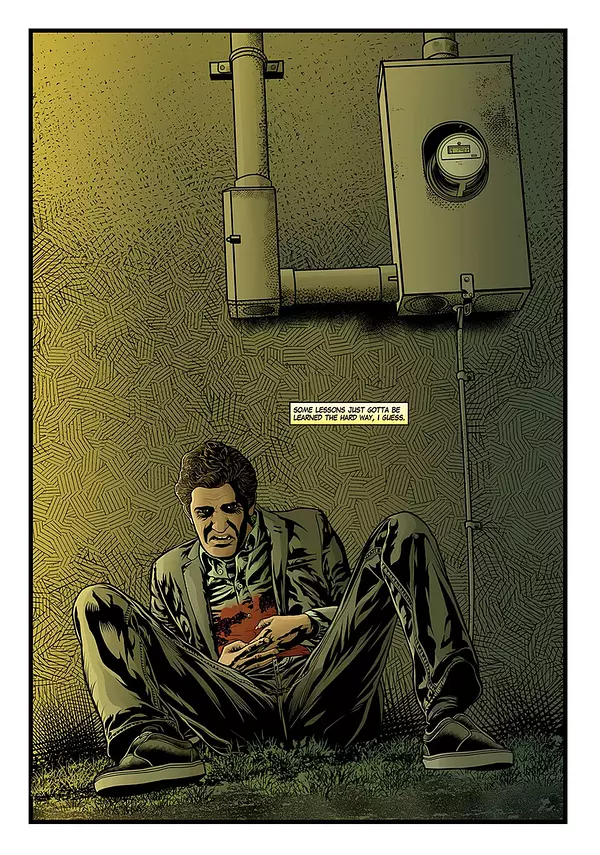 It wasn't received with much rapture:
The story itself is a typical actioner where our dude shoots anyone and everyone until he needs to be vulnerable, etc. Like Way's writing, Jon Proctor's art is slick, though I thought the lines throughout were too thick, particularly regarding the main character (those lips!) – the inks were way too much.
This tangled history is more interesting than the graphic novel itself, a conventional, if unusually gory, guns-and-dames yarn about a cynical hired killer who makes the mistake of sparing a beautiful woman he meets in Chinatown.